Born in 1986 in Swindon UK, and now residing near Truro, Cornwall, It was evident from an early age that Kyle had a fascination with abstract patterns of sound and was obviously absorbing anything and everything of a musical nature. However, despite him being a healthy young boy, Kyle could not relate to others around him, was non verbal and appeared to be living in a world of his own.
Around his third birthday Kyle was diagnosed with 'Classic Autism'. As time went on Kyle retreated from the world leaving him unable to communicate and relate to anyone, finally enclosing him in a pervasive fortress of autism.
While growing up and showing islands of ability Kyle still remained unreachable at times, however he never lost his fascination and love of music, and with this medium and the sensitivity of music therapy, a doorway opened permitting him safe passage, enabling him to find his own musical expression.
Undetected for many years, Kyle had stored a latent musical ability, in addition to a vast repertoire of song lyrics in his memory, these were brought to life with the aid of his music therapist, and in due course, Kyle was reciting song lyrics with almost perfect pitch.
As his natural infinity with music grew it gradually opened up his world to other musical outlets and in 2012, at the age of 25, supported by the National Autistic Society (NAS) and  coinciding with World Autism Awareness Day, Kyle recorded and released his debut album, 'Therefore I Am', a collection of his favourite songs, featuring one track written especially for him, entitled 'Just Listen'.
The response to the single and the album was simply quite unexpected and overwhelming, with articles in most of the UK national press, news broadcasts, and even featuring on CNN news in the USA! With over 200,000 hits on YouTube in just 2 days, most touching was the feedback received, much of which seemed to offer some hope to parents of non-verbal Autistic children the world over.
Since then, by request, Kyle has performed a few small gigs throughout the Southwest, including the Holifield festival, Royal Cornwall show, and New County Hall, Truro. He has made local radio appearances too!  Kyle's confidence and communication skills continue to develop week on week as the boundaries of his abilities are expanded.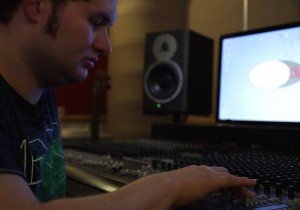 A new album of diverse original material written especially for Kyle by Producer John Carter and Caroline Coleman and has been recorded during 2013 at April Media Productions, Plymouth, with the album launch set for 2nd April 2014 to coincide with World Autism Awareness Day.
Kyle has also started filming music videos throughout the Southwest UK for some of the songs to feature on the forthcoming album which he has thoroughly enjoyed.
Kyle's passion for music and love of singing has not only be transformational it has been curative and continues to unfold the dimensions of Kyle's musical ability daily, and the recording studio currently remains his most favourite place in the world to be!